There's always unusual crimes that make us scratch our heads.
This week we have, seriously, Laurel and Hardy arrested on drug charges.
Here's a really sad story about a woman, a large woman, who actually crushed her baby Daddy by sitting on him.
Finally, a man arrested for having sex with a tree. And we've got a pic of that very sexy tree.
Laurel and Hardy Arrested For Selling Drugs
From Citizensvoice.com:
Carlos Laurel, 31, and Andre "Sug" Hardy, 39, of Lincoln Street, face eight charges related to cocaine trafficking. Police arrested Laurel and Hardy after they showed up at a Kingston residence and allegedly delivered 50 bags of cocaine to the unidentified occupant Tuesday at about 5:53 p.m. Police estimate street value of the cocaine was $2,500.
The jokes, they write themselves.
---
Man Arrested For Having Sex With Tree
From Daily Telegraph:
William Shaw, 21, has been ordered by a court not to enter Central Park in Airdrie, Scotland after claims he attempted to have intercourse with the plant.

It is alleged he dropped his trousers and underpants while in the visitor attraction in September last year.

It is claimed he then tried to have simulated sex with the tree while his trousers were around his ankles.
Shaw, of Airdrie, pleaded not guilty to an act of public indecency at the town's sheriff court.
Seriously.
And don't you know, as there always are, there's a neighbor who declares the perp was "a quiet lad".
Below, thanks to the pranksters at FreeRepublic, an ersatz picture of the tree that so tempted Shaw.
---
Sat On Lover and Killed Him
So okay, this story has the potential for yuks. But this couple had three children together! And a poor guy is dead!
From Ninemsn.com:
Mia Landingham pleaded guilty to involuntary manslaughter in the death of Mikal Middleston-Bey, who weighs just 54.4kg, FOX8 News reports.
What's even weirder, this woman only got three years probation!
I'm thinking that it was all a tragic accident. At least I hope so cause dead is dead.
Now this babe is no lightweight, as yon reader can see. But I've seen plenty bigger.
I'll never understand how you can sit on someone long enough to smother them and not know what's going on.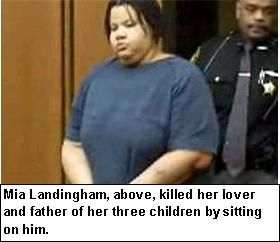 =================
---
To the Main Blog…Over a Million Page Views
EMAIL ME