Remember Scott Ritter?
He was a pervert then and he's a pervert now.
Also, Governor Paterson's son arrested for stolen credit cards?
Scott Ritter was a UN weapons inspector. This pervert made the news by asserting that Saddam Hussein had no weapons of mass destruction. And before yon reader yells out the Democrat mantra that Hussein did NOT have WMD…recall that Hussein had no STOCKPILES of WMD's, that he had months of warnings about an American invasion, that this fine man and his two perverted sons were killed by their own people, that Saddam invaded Kuwait and was a bad actor on the world stage. To defend this man is…well let us ask the question, IS THE WORLD BETTER OFF WITHOUT THIS CREEP AND HIS TWO SONS IN POWER?
Or do you really think the world would be better with Saddam back at the helm and if so, well there's all sorts of idiots in the world. His own people hung him rather unceremoniously.
And yet this American fellow, Scott Ritter, defended the fine, fine Saddam and even at the time it was revealed that, ahem, Ritter had some, eh, "issues" with young women. I believed at the time and I believe it even more now with this revelation, that Saddam has some damning information on Ritter. Further, it was discovered that Ritter had accepted some sort of money from Saddam which wasn't a bribe, oh no. Ritter was going to "make a movie" with the money, a movie I've yet to see.
Also, this is Scott Ritter the pervert's THIRD ARREST for attempting sex with a minor female.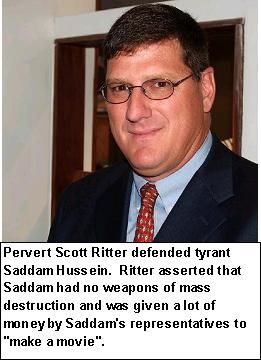 Below, Ritter's fine best-seller of a book. What a creep, a child-molesting America-betraying creep. His mother must be so proud of him.
From the Poconorecord:
A former chief United Nations weapons inspector is accused of contacting what he thought was a 15-year-old girl in an Internet chat room, engaging in a sexual conversation and showing himself masturbating on a Web camera.

Scott Ritter of Delmar, N.Y., who served as chief U.N. weapons inspector in Iraq from 1991-98 and who was an outspoken critic of the second Bush administration in the run-up to the war in Iraq, is accused of contacting what turned out to be a Barrett Township police officer posing undercover as a teen girl.
=================
NY Governor David Paterson's Son Arrested
This story has been corrected to state that the Governor's son was NOT arrested. Weird. He had stolen credit cards. Weird.
From NY Daily News.com:
The governor's son, a student at Beacon High School on W. 61st St., was arrested at about 3 p.m. and taken to the 20th Precinct.

Cops spotted the teen shooting dice on the sidewalk near his school. When officers searched his belongings, they found a credit card in someone else's name, traced it and determined it had been stolen, the source said.
We'll be watching this case, I don't think it's going away any time soon.
=================
To the Main Blog…Over a Million Page Views
EMAIL ME
---