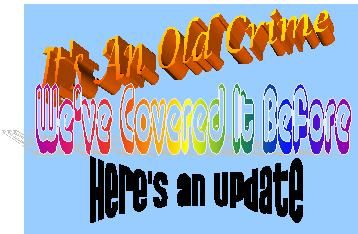 The swamps of Delaware, here where I live, were rocked with the news of a local Pediatrician who had not only been molesting the children he was charged with healing, but he was videotaping his heinous acts as well.
Now we learn of another Pediatrician involved with harming his innocent patients and we wonder if the horror will ever cease.
Also, the fine, fine Josh Powell, who took his children on a Sunday midnight camping trip in freezing weather the night his wife went missing is…MOVING!
Yes he's taking his children and leaving the state. Certainly the actions of a grieving husband whose wife suddenly went missing, don't you agree?
A Lesson For All Parents, Don't Automatically trust Your Pediatricians
A horror story now rocking the swamps of Delaware was first covered on this Blog
HERE.
He's been a Pediatrician in this area where I live for almost 20 years. His office is a large ostentatious building on our local Route 1 near the beach, called BAYBEES pediatric center. There's a little ferris wheel outside and a big icon of a bright yellow bumblebee on the sign.
It's a cute sort of sign, exactly the sort of place you'd feel very comfortable taking your toddler. It's also a keen location in a beach resort area and by its nature would attract visitors to the practice for such as sunburns and other vacation type of ailments.
Dr. Bradley was arrested for 33 counts of child molestation and is being held for over $2 million dollars bail.
The people in this area are reeling from the shock. Dr. Bradley practiced medicine in the local hospital, is well-known and respected.
Now we learn of this fine pair of TWIN pediatricians also abusing their patients.
From the Journal-News,com:
The doctor was indicted last year, along with his twin brother, on 22 counts of sex and child pornography charges. He is on house arrest and is fitted with an electronic monitor.

Scott Blankenburg, now classified a Tier II sexual offender, has been given until Feb. 15 to start serving the sentence to allow him to copy patient records and close his practice.
I told my daughter to never, ever trust any pediatrician willy-nilly. Daughter told me how concerned she became once when a dentist where she took Kaitlyn for dental care would take her off and not allow her to come back and stay with the child. "But both of the people working on Kaitlyn were women," daughter said.
Well don't even trust women. For flying under the radar I am to understand that there were lots of female nurses in this area who had suspicions about Dr. Bradley and what he did in that infamous cellar of his, some who quit abruptly and with no explanation.
Also, the local yokel hospital once put Dr. Bradley on probation, requiring him to have an observer on hand for all examinations. Hey folks, the hospital didn't do this for nothing. I'm told this probation only lasted a month then Bradley was allowed closed access to all patients. That hospital is being sued long and hard.
If nothing else, do NOT let your child be taken off alone with any doctor. If the doctor/dentist insists…take the child elsewhere.
---
Josh Powell Just…Poof, Is Moving
-powell
Susan Powell went missing on December 7, 2009.
She left behind her cell phone, her pocketbook, her car keys…the sort of stuff we just don't leave behind if we are running off or some such.
The Susan Powell mystery first covered on this Blog
HERE.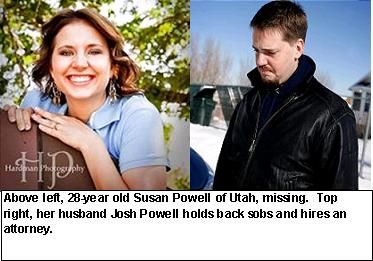 Now we learn on Sphere.com:
WEST VALLEY CITY, Utah (Jan. 10) - The husband of a missing Utah woman was moving out of the couple's home in a Salt Lake City suburb to Washington state Saturday, and police said they couldn't prevent the move.

West Valley City Police have named Josh Powell the only person of interest in the Dec. 7 disappearance of Susan Powell, but he has not been named a suspect.
Just like that! Only idiots think this fellow knows nothing about his wife's disappearance. But the police say they can do nothing about it and hey, Drew Peterson's still walking free so hey, kill your wife, take your kids on a midnight camping trip, say you forgot it was a Sunday night, claim when you got back the wife was gone then move to a state far away.
Why not? It's cheaper than divorce.
=================
To the Main Blog…Over a Million Page Views
EMAIL ME
---