Here's the second True Crime post of the week and it's been a sad few days for the innocents. Four kids burned to death by their own father, one child killed by an abusive babysitter who claimed she was just playing, and a fine father kills his baby daughter because he wanted a son.

Plus updates on ongoing crimes as they become available.
Web Site Worth the Visit
Contact Elvis





Contact the spirit of Elvis with this spooky online Ouija board. Ask him anything that you want. Just stay off of his Blue Plate mayonnaise.

CONTACT ELVIS HERE


Man Stabs Wife to Death; Sets House on Fire Kills Four Children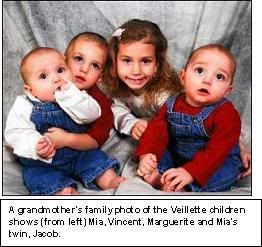 Michel Veillette is still alive although he's been stabbed, burned and evidently jumped out of a second story window. Michel Veillette is NOT conscious, or was not conscious as of this writing.
From Enquireer.com:
Authorities continued their search for answers in the deaths of Nadya Ferrari-Veillette, 33, and her four children - Marguerite, 8; Vincent, 4; and 3-year-old twins, Jacob and Mia.

Michel Veillette, 34, is accused of killing his wife and children in a chilling late-night stabbing and fire that has left people wondering why.
Best guess is Michel stabbed his wife to death, somehow stabbed himself, then used an accelerant to start the fire. At some point Michel jumped out of the window to save himself.
This is either a murder and failed suicide attempt by Mr. Veillette or a murder which he hoped to claim was a fire that caused his entire family to perish.
Whatever the horrific reason, four innocents are dead and they may have died in the worst possible way. While one child is alleged to have died from carbon monoxide poisoning, tests are not in on the other three children.
The WORST, Most Heinous, Most Despicable Criminals of All
Merryland, the state of my birth, just raised cigarette taxes over a buck a pack. My daughter smokes and no, she shouldn't. Her husband too smokes and no, he shouldn't. Both of these folks are lower income so Governor O'Malley must be so proud, leaching money from his state's poor while Merryland's government grows like a weed in a rainstorm.
It occurred to me that the worst criminals on this planet are smokers and they all should be hanged. Hang them in a public square, MAKE the public watch.
Now we find out that another liberal organization looking out for its own purpose to exist actually gives grades on how states handle smokers.
Not that South Carolina doesn't have elected representatives or anything that should be in charge of passing laws South Carolina citizens want.
From WSOCTV:
South Carolina received all Fs on an annual report card released by the American Lung Association.

The group faults South Carolina for easy access to cigarettes for teens, its lowest-in-the-nation state cigarette tax, its lack of a statewide smoke-free workplace law and for spending far less than what's recommended on programs to curb smoking.
What's really scary is this comment from one of the American Lung Association's fine reps:
"It's time for state leaders to summon the political will to put the health of our citizenry at the top of their priority list," said June Deen, regional spokeswoman for the American Lung Association.
Two things here…first, oh no Ms. Busybody Deen, it's NOT time for state leaders to put the health of citizenry first. It's time for state leaders to do what the CITIZENS want. A concept fine liberals cannot grasp.
Second, why not just make smoking a cigarette a crime against humanity, make it a hate crime while at it, and stop all the national drama?
Yon readers I caution, you may not like smokers or smoking thus you shrug or look the other way. NEXT they are coming after the FAT people.
Being fat will be a crime and after that, hey I'll vote for it…KILL ALL THE UGLY PEOPLE.
There you have it. No smokers, no fat people, no ugly people.
A perfect world.
Babysitter Abuses Toddler, Kills Him
The story was originally reported as follows.
From WFSB.com:
HARTFORD, Conn. -- A toddler has died from a severe head injury he suffered when his baby sitter swung him around in a sleeping bag for fun and it accidentally hit a wall, Hartford police said.

Elijah Gasque, who was just barely 19 months old, was brain dead at about noon at Connecticut Children's Medical Center after being injured Friday evening in his home on Main Street, police said. The boy was kept on life support overnight as doctors prepared his body for organ donation.

The baby sitter, Yalines Torres, 25, of Hartford, was charged with risk of injury to a minor and reckless endangerment early Saturday morning before the boy died. Police said additional charges were expected. She remains held on a $500,000 bond.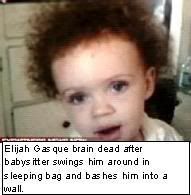 So a babysitter was horsing around with the child by swinging him in a blanket? One swing got out of control and the toddler's head smashed into a steel reinforcement on the wall?
Shades of the British nanny! Remember her? Louise somebody…killed a little boy while babysitting. The judge let that little bitch go even though she'd been mistreating the baby.
Below, the truth comes out.
From WTNH.com:
Hartford (WTNH) _ A Hartford toddler is brutally beaten and police have charged the babysitter.

Police say 25-year old Yalines Torres is being held on $500, 000 bond. They say she confessed to abusing the child. The baby is on life support after doctors declared him brain dead.
Wonder if the judge will let Yalines Torres go free.
Man Sodomizes Stepson to Avenge Rape of His 8 Year Old Daughter
A fine 18 year old fellow rapes an 8 year old girl. His mother must be so proud of him.
Except this sweet guy's mother is married to a man who, well the man got even.
From KLTV.com:
FORT WORTH, Texas (AP) - An Arlington man faces a charge of aggravated sexual assault after police said he sodomized his 18-year-old stepson to avenge the teenager's alleged rape of the man's 8-year-old daughter.
The father told his wife, the fine child-raping boy's mother, NOT to get the kid out of jail. The mother posted bond for her boy for whom she must be so proud.
The father took the kid home only he made a little detour. The child-raping pride of his mother's eye got a beating with a baseball bat and got sodomized with a metal tool.
This father has a bit of a criminal history including a tendency to fight. For sure I'd never advocate such revenge.
But since it happened, since this 18 year old punk thought it was cool to sodomize an 8 year old child, since his mother so loves her little boy who makes her so proud…well it happened and on some visceral level, it makes me feel satisfied.
Hey, maybe the kid won't rape any more kids no mind how proud it makes his mother.
This is a marriage that might be heading toward the rocks.
Speaking of Fine Parents …
Here's a fellow who methodically beat a 4-month-old baby until he killed her. All because he wanted a son.
From Local6.com:
WINTER HAVEN, Fla. -- A Winter Haven man was charged with murder, accused of fatally beating his 4-month-old daughter Christmas Day because he wanted a son, authorities said.





Marcos Gomez-Romero, 28, told investigators that he beat Ariana Rodriguez Romero to death because he wanted a son instead of a daughter, according to a Polk County Sheriff's Office report.
Blessed innocent may she rest in the arms of Jesus.
Mr. Romero's mother must be so proud of him, beating an infant to death.
More News on the Tiger Yoots
Tatiana was a magnificent Siberian tiger now dead thanks to three fine youths, whose parents must be so proud of them. While info on this case has been sketchy, it now would seem that finally there will some investigation into the two survivors of the tiger attack.
From MercuryNews.com:
San Francisco police today began their review of the cell phones and car belonging to the survivors of a Christmas Day tiger attack at the San Francisco Zoo, officials said.

< snip >

A San Francisco Superior Court judge granted a search warrant allowing police to examine the cell phones and car on Tuesday.

For police and city officials to get the warrant, they needed to show probable cause of felony wrongdoing, a city official said.
Scuttlebutt has it that these boys were liquored up this past Christmas day and thought it would be a hoot to climb into the tiger pit and torment the tiger. It's not clear what those boys to make Tatiana mad but it's speculated that they were perhaps throwing things at the tiger as she lay in her pit unable to avoid the aerial assault from above.
It's evident that these boys climbed the chained-link fence to get over into the grassy area that led to the wall that kept the tiger in the pit. Only the wall didn't keep the angry tiger in the pit and I've read various accounts that one of all of these boys were leaning over the wall INTO the pit. When the tiger lunged at them she evidently got a grip on one of the boys hanging into her pit and managed to use his body as a ladder to get out of the pit. One young man was killed.
Two other young men ran off and were eventually rescued from that very poorly managed zoo.
These two fine young men hired that paragon of legal bravery, Mark Geragos. Geragos is that smarmy fellow sometimes seen on Fox news but he was also legal defender of the fine Michael Jackson.
We are sure that Mark Geragos is defending these two ill-mannered fellows out of the goodness of his legal heart and there is no intent of financial gain.
These boys, ladies and gems, plan on suing that zoo and they plan on making big bucks.
Do they deserve it?
Which is why it is critical to ascertain just what happened that night of the attack. Because for sure that zoo was badly managed but if three drunken louts hadn't decided to go where they shouldn't hadn't oughta been, Tatiana the beautiful Siberian tiger would still be alive as would the friend of those two fine boys.
Whose parents must be so proud of them.
Mike Huckabee and Clemency
If Republican Mike Huckabee gets to be our president, line up all your felon friends and save up your bucks. For the Huckster, like fellow Arkansan before him Bill Clinton, really, really likes to give out pardons.
Wayne Dumond was one such fellow Huckabee pardoned. Dumond went on to rape and kill two women within six months of his release, such a fine fellow who so deserved his freedom.
My scathing report about Wayne Dumond is covered on this Blog
HERE.
Below, a hilarious Youtube song about the rapist loving Mike Huckabee.
Speaking of Fine Elected Officials
Just yesterday it was reported that Mark Deli Siljander, a Michigan Republican, was indicted for helping out our terrorist friends.
From Star Tribune:
A former congressman and delegate to the United Nations was indicted on charges of working for an alleged terrorist fundraising ring that sent more than $130,000 to an al-Qaida supporter who has threatened U.S. and international troops in Afghanistan.
Yup, he's a Republican. Only he's probably a Republican in Name Only, a RINO as I like to call them.
Whatever the case, this is treason and nothing less.
They're always from Michigan, notice that?
They Break INTO Jail. Nope. You Can't Make This Stuff Up…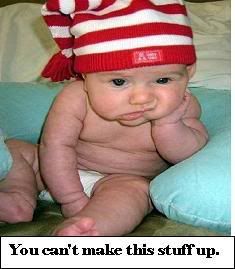 It happened in England. Seems the transvestite needed women's clothes.
From The Sun U.K.
A JAIL was broken into to supply a transvestite lag with women's clothes, it was revealed yesterday.

Officers found knickers, ball gowns and denim skirts in a burglary convict's cell, along with drugs and mobile phones.

An accomplice on the outside used a ladder to scale the 20ft perimeter wall, making regular break-ins. The hauls were sold to fellow cons at £600 a time – but the contraband was found last Friday after officers were tipped off.
Read the story at the link. It's unbelievable that this went on for six months before the jail authorities caught a clue.
=====================
FOCUS ON Stacy Peterson
===================
His third wife died in the bathtub, a healthy woman in a dried tub, her hair covered in blood and bruises covering her body. The Illinois state cops called it an accident! Now Savio's body is due to be exhumed because, as it would turn out, the fine Drew Peterson had yet ANOTHER missing wife! He tells us she phoned him to tell him she's leaving for another man. Yet she left her two young children behind?
And no one's yet been able to find Drew Peterson's first two wives as of this writing.
Who's been letting Drew Patterson get away with murder?
Introduction to the strange case of Drew Peterson's wives.
Drew Peterson's third wife's body to be exhumed
Drew Peterson's Third Wife's Death Determined to be Homicide
Drew Peterson and the Blue Barrel
Drew Peterson's airplane
New search warrant for Drew Peterson
Drew Peterson Can't Get a Date