Here's a True Crime update. We begin with the tale of Kelsey Smith's murderer. Here was a fellow just waiting to be put in jail as his ilk should not be walking free.

Also, William Jefferson, Democrat Louisiana gets indicted, another missing teen found alive in a hidden room and there's an Iranian link in that JFK terror plot.

A woman dragged to death over a fender-bender and this fellow thought he got away with murder by blaming his wife's death on his 2 year old son. But not so fast....
Pic of the Day
---
Quote of the Day


Classic Quotes by Liberace (1919-1987) Hungarian-born U.S. pianist

When the reviews are bad I tell my staff that they can join me as I cry all the way to the bank.
---------------
I had to dare a little bit. Who am I kidding - I had to dare a lot. Don't wear one ring, wear five or six. People ask how I can play with all those rings, and I reply, "Very well, thank you."
---------------
You can have either the Resurrection or you can have Liberace. But you can't have both.
---------------
You know that bank I used to cry all the way to? I bought it.
---------------
Nobody will believe in you unless you believe in yourself.



Web Site Worth the Visit
Amazing Optical Illusions

While optical illusions are fairly common via email and over the Internet, this site makes it a specialty. And they are truly breath-taking.

ABOVE SITE HERE


TIDBITS

Top 20 Dog Names in the United States, male and female:

1. Max 1. Maggie
2. Jake 2. Molly
3. Buddy 3. Lady
4. Bailey 4. Sadie
5. Sam 5. Lucy
6. Rocky 6. Daisy
7. Buster 7. Ginger
8. Casey 8. Abby
9. Cody 9. Sasha
10. Duke 10. Sandy
11. Charlie 11. Dakota
12. Jack 12. Katie
13. Harley 13. Annie
14. Rusty 14. Chelsea
15. Toby 15. Princes
16. Murphy 16. Missy
17. Shelby 17. Sophie
18. Sparky 18. Bo
19. Barney 19. Coco
20. Winston 20. Tasha

May Kelsey Smith Rest In Peace; She Did the World a Favor
Thanks to the ubiquitous video tapes now dotting shopping malls, the abduction of missing teen Kelsey Smith was caught on tape.
From Kansascity.com:
Surveillance tape shows an Overland Park teen-ager missing since Saturday evening being forced into her car at a Target store where she had stopped on an errand.

Kelsey Smith, who graduated about 10 days ago from Shawnee Mission West High School, left the store at 97th Street and Quivira Road around 7:10 p.m. and
put the packages in the passenger seat of her 1987 Buick. Out of nowhere, in a busy parking lot and in broad daylight, someone runs toward Kelsey.

It didn't take long for neighbors to notice that the man on the tape lived next door.
OLATHE, Kan. - The next-door neighbor of a man charged with kidnapping a young woman from a store parking lot and killing her contacted police when he saw the man's pickup in a surveillance video, he said.

Cameron Migues, 30, said he and his wife laughed when they noticed a similarity between Edwin R. Hall and the man pictured in the video. But then the video of the truck was released, and "we put two and two together," said Migues, who called a police hot line Wednesday morning.

Hall, 26, was charged with premeditated first-degree murder and aggravated kidnapping in the death of Kelsey Smith, 18. Bond was set at $5 million

It went like these things do from time to time. Friends and neighbors describe Edwin Hall as a fine fellow, the father of a toddler, a happily married man who help fixed an ailing car.
It soon emerged that Edwin Hall had a very dark side. Hall's adoptive parents revealed a child who was always a discipline problem, a young man who once almost strangled his adopted sister.
It was only a matter of time before Hall did what he did. For this man is a killer. Kelsey Smith happened to be at the wrong place at the wrong time. At least capturing her killer was quick and easy. Imagine the nightmare had this video tape not so effectively allowed Kelsey's abductor to be identified. This is a man who could readily have went on to a life of serial killing.
May sweet Kelsey rest in peace. Although she was in the wrong place at the wrong time, it was the right place to stop a lifetime of murder of other innocent females.
Another Missing Teen Is Found
The story of this missing teen is still a bit murkey. But the news that she had been found came at about the same time Kelsey Smith's body was found.
From Yahoo.com:
BLOOMFIELD, Conn. - A 15-year-old girl missing for nearly a year was found Wednesday locked in a small hidden room under the staircase of a West Hartford home, and two people who live there were arrested, police said.

Bloomfield police said they found the girl alive in a room blocked from view by a cabinet. They had gone to the home with West Hartford police to serve search warrants for DNA and other evidence.
Much more will come out about this case in time. For now know that a man AND a woman are charged with the kidnapping and imprisonment of this young girl.
Conjugal Prison Sex for Everybody
I personally have no objection to same sex conjugal prison visits. My objection is to conjugal visits for any sexuality. Silly me. I think prison is like, jail. You know, a place where freedom and the normal niceties of life are denied.
From NWAonline.net:
SACRAMENTO, Calif. -- California has begun allowing overnight visits for gay and lesbian partners of prison inmates to conform to the state's domestic partnership law.

California is one of just six states allowing overnight family visits, which take place in trailers or other housing on prison grounds. But attorneys, gay rights advocates and corrections officials said they know of no other state permitting conjugal visits by same-sex partners.
I do, however, see some problems coming from this arrangement. First, I'm not sure but I'm betting conjugal visits are allowed only for MARRIED couples. I mean the question I have, could some prison guy say that so-and-so is my GIRLFRIEND and then have a conjugal visit? I'm thinking not but allow as I am too lazy to check it.
With these same sex things, could not Joe fall in love with Chuck, WHILE IN PRISON, and demand some time in the prison's love mobile? As of this writing same-sex partners cannot be married in California so how is the prison system suppose to know just how dedicated these alleged same-sex couples are? A marriage certificate shows at least some dedication. Although, I don't know, maybe California has some sort of same-sex certificate.
Whatever the case, none of it makes any sense. It's one of those slippery slopes. People don't die without sex; I simply cannot imagine the populace of any state allowing its prisoners to have overnight visitors but there you have it.
Iran/Venzuela Involved in JFK Terror Plot?
Had these fine fellows managed to find a way to blow up the fuel line in New York's JFK airport I am quite sure the apologists at the NY Times for the Arab dictators and despots would have denied any connection to the dictators of IRan and Venzuela just like they got all hysterical over any implication that Saddam had anything to do with 9-11-01.
From the NYSUN:
WASHINGTON — As New York police and the FBI interview suspects in an alleged plot to attack John F. Kennedy International Airport, one thread the ongoing investigation will explore is why one of the suspects was planning to go to Iran.

A former Guyanese legislator, Abdul Kadir, was arrested in Trinidad on Friday on a plane bound for Caracas, Venezuela. According to Mr. Kadir's wife, Isha Kadir, he was in the island nation to pick up an Iranian visa so he could attend an Islamic conference in Tehran. Two of Mr. Kadir's children are studying in Iran, according to Mrs. Kadir.
And yet there you have it. A Guyana legislator participant in this plot was going to Venezuela, home of Hugo Chavez, to get a visa to go to Iran. Two nations who openly declare their hatred and evil intentions for the United States.
Yet the meterosexuals at the NY Times continue to pooh-pooh these terror plots as home-grown nutjobs. Be afraid, be very afraid.
For what would the NY Times have said about Mohammad Atta and his buddies had they been caught BEFORE 9-11?
"Even though the FBI declares that the 19 men arrested yesterday intended to hijack airplanes in mid-air and ram them into buildings including the World Trade Center, and Pentagon, how likely is this?"
Above is how the NY Times would likely have stated the silly notion that a bunch of Arabs could actually take over airplanes in mid-air and succeed at it.
A Tragic and Unnecessary Death
But of course this fine fellow had to catch a plane and how much you wanna bet he was here illegally?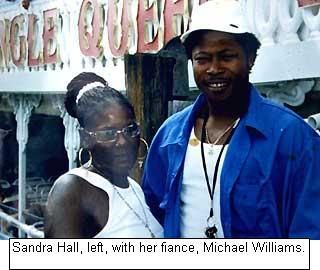 From Foxnews.com:
FORT LAUDERDALE, Fla. — A man was being detained in New York for the death of a woman who was dragged for several miles under a minivan after trying to stop the driver from fleeing a collision, officials said Monday.

Abdelaziz Bilal Hamze, 24, was detained on Delta flight 132 bound for Athens, Greece, Broward County Sheriff's spokesman Elliot Cohen said.
Sandra Hall threw herself on the hood of this guy's car as he attempted to take off after he collided with the car driven by her and her fiance. She didn't want him to run off and her spur-of-the-moment action cost her her life. For Hall somehow slid off the hood of this fine fellow's car and the guy KEPT ON DRIVING!
Welcome to America, bud. You'll be here quite a while now, enjoying the comforts of our fine prison system.
He Blamed His Toddler Son; Ten Years Later This Cold Case Turns Hot
Derek Sawyer must have thought he died and went to murderer's heaven. For he managed to shoot his wife in 1997 and blame it on his 2-year-old son. As a result of a re-examination of the case by the Anchorage cold case unit, Sawyer's faulty story of how his wife ended up dead was torn apart.
From ADN.com:
A Glennallen jury on Thursday found a man guilty of killing his wife 10 years ago -- a death that the convicted man had originally blamed on his 2-year-old son.

After a monthlong trial, Derek Sawyer was found guilty of first-degree murder in the shooting of his wife, Gretchen Sawyer.

At the time of the slaying, Derek Sawyer, then 23, told Alaska State Troopers that the couple's young son must have picked up the gun from the kitchen table and brought it into the couple's bedroom. He told investigators the gun must have gone off accidentally and killed the 20-year-old mother, according to the original charges filed by prosecutors.
Sawyer was fearful his wife would leave him along with their two children. There was also questions about the couple's second child whose paternity was proved NOT to be Derek Sawyer's after his wife's death. Right there's a motive.
It's a story just made for "48 Hours".
William J. Jefferson, Democrat Louisiana, Indicted!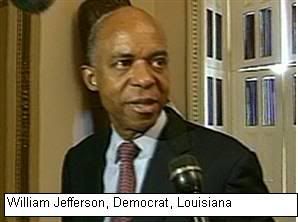 From MSNBC.com:
Republicans moved Tuesday to seek Rep. William J. Jefferson's expulsion from the House, a day after the Louisiana Democrat was indicted on charges of receiving more than $500,000 in bribes.
There is no limit to the audaciousness of this man. Indeed even as Katrina roared William Jefferson used his status as a congress critter to demand National Guard troops take him to his house so he could get the money this fine fellow had hidden in his house. In fact the National Guard truck got stuck in the mud and valuable resources being used to rescue other victims had to be diverted to rescue the truck.
The big question here...will the Democrats remove this guy from congress? Don't tell me innocent until proven guilty. The Dems demanded Tom Delay be removed before he had the benefit of a trial.
Or will the Dems get away with allowing this very obvious felon continue to serve in congress like they always do?
More True Crime Updates HERE
================
Add POST to Technorati Favorites
=======