Here's a True Crime update with some crimes you might have seen covered by the Media.

We've got a missing black woman that flew right under the media radar. How about the woman who wanted her baby aborted but it wasn't? She's suing now…how dare that unborn child live?

We've got a diner owner shooting a would-be robber, all caught on videotape. There's also that Iraqi airplane passenger with strange things on a part of his person where the sun don't shine.

We've got a dognapping video, the strange theft of schoolbooks sold on Ebay.

In major crimes, we've got an update on the lovesick astronaut and the scoop on the idiot who rammed an airplane into his mother-in-law's house.
Pic of the Day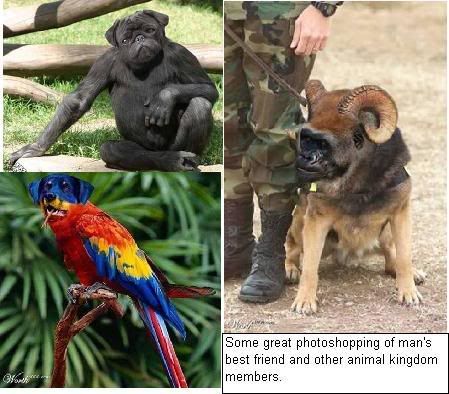 ---
| | |
| --- | --- |
| | Quote of the Day |
Web Site Worth the Visit
Discover All About the City You Are Moving To

Anything you need to know about Tampa, Florida or Phoenix, Arizona can be found at this site. Or any other city in the U.S. that might intrigue or tempt, check it out first on this site filled with U.S. city data.

CLICK HERE


TIDBITS

This is just so intriguing to me. For my father's name is Pete McLaughlin. I'm perfectly serious. So this alleged letter written by a Merryland resident (my father also was a Maryland resident all his life) comes into my ebox. I like the sentiment. But eerie, huh? My Dad's been dead since 1985. He couldn't possibly have written this letter. There was NO Department of Homeland Security when my Dad was alive.

Again, note the name in the sig line, take away the letter "G". Just weird.

Subject: Becoming Illegal (From a Maryland resident to his senator)

The Honorable Paul S. Sarbanes
Senate Office Building
309 Hart
Washington DC, 20510

Dear Senator Sarbanes,

As a native Marylander and excellent customer of the Internal Revenue Service, I am writing to ask for your assistance. I have contacted the Department of Homeland Security in an effort to determine the process for becoming an illegal alien and they referred me to you.

My primary reason for wishing to change my status from U.S. Citizen to illegal alien stem from the bill which was recently passed by the Senate and for which you voted. If my understanding of this bill's provisions is accurate, as an illegal alien who has been in the United States for five years, all I need to do to become a citizen is to pay a $2,000 fine and income taxes for three of the last five years. I know a good deal when I see one and I am anxious to get the process started before everyone figures it out.

Simply put, those of us who have been here legally have had to pay taxes every year so I'm excited about the prospect of avoiding two years of taxes in return for paying a $2,000 fine. Is there any way that I can apply to be illegal retroactively? This would yield an excellent result for me and my family because we paid heavy taxes in 2004 and 2005.

Additionally, as an illegal alien I could begin using the local emergency room as my primary health care provider. Once I have stopped paying premiums for medical insurance, my accountant figures I could save almost $10,000 a year. Another benefit in gaining illegal status would be that my daughter would receive preferential treatment relative to her law school applications, as well as "in-state" tuition rates for many colleges throughout the United States for my son.

Lastly, I understand that illegal status would relieve me of the burden of renewing my driver's license and making those burdensome car insurance premiums. This is very important to me given that I still have college age children driving my car.

If you would provide me with an outline of the process to become illegal (retroactively if possible) and copies of the necessary forms, I would be most appreciative. Thank you for your assistance.

Your Loyal Constituent,

Pete McGlaughlin

Crashes Airplane Into Mother-in-Law's House; Kills Own Daughter
Here's a fellow who is definitely in hell even as I type. He's burning handily and the gates of heaven are forever closed to him and his evil ilk.
From AOL.com
BEDFORD, Ind. (March 6) - "I've got her, and you're not going to get her." Beth Johnson heard those words from her ex-husband Monday, shortly before he crashed his rented single-engine plane into his former mother-in-law's southern Indiana home, killing himself and the couple's 8-year-old daughter.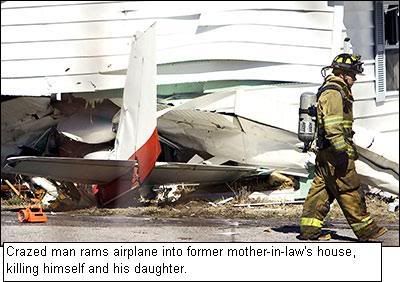 Did he have to take his child with him? Poor little girl, only 8 years old, sadly heard begging her mother to come get her during the last phone conversation this ersatz pilot had with his ex-wife. Only her mother couldn't come and get her. And this idiot, fool and spawn of the devil rammed an airplane in the little girl's grandmother's house, killing the fool and spawn of the devil and an innocent child.
She is with Jesus now. He is with Lucifer.
Suing for Bungled Abortion
From Boston.com:
A Boston woman has filed a lawsuit alleging that a doctor at Planned Parenthood League of Massachusetts bungled her abortion in April 2004 and that she had no idea she was still pregnant until about six weeks before her daughter was born in December.
They call it a "wrongful birth" lawsuit.
For the Boston woman described above tried to have an abortion in April of 2004 but it didn't "work". She then went to another physician complaining of some problem and that physician declared the lady fine. In December of 2004, this lady gave birth to a living baby.
Here's the thing, had this lady wanted to, she COULD have aborted that hapless baby anytime during those last six weeks before giving birth, yes she could have, for America allows "abortion" up until the day of birth. It's the price we pay for having a bunch of unelected justices make law.
Thus I suppose it's a good thing this woman went ahead and had her baby because the child surely was meant to be born if you think about it.
This is an interesting case because according to the link above, "wrongful birth" suits aren't unusual in Massachusetts but money has only been rewarded in cases where the child was disabled and an undue burden to raise because of it.
Planned Parenthood, heh, you gotta love them. A taxpayer-fueled mammoth organization growing by leaps and bounds and eager to promote abortion for its continued existence. Maybe they need to practice their fetal murders a little better.
Missing Woman-Hint-Check That Ex-husband
A reader sent me info on the following news story. The reader complained that this beautiful black woman is missing and yet we hear nothing but Anna Nicole.
Ricarda Tillman Lockett was last seen leaving her job in mid-February. She was seen getting in the car of her ex-husband, Lou Lockett. Ricarda had a restraining order against her ex-husband.
The parents of Ricarda Tillman Lockett say Memphis Police aren't doing enough to find her. So they searched for her on Saturday, March 3, 2007. Tillman-Lockett's family members went door to door in the University of Memphis area, asking neighbors if they know anything about her disappearance. They also posted fliers and searched a wooded area near her home.
So here's the scoop for the investigators in this case....TAKE A REAL CLOSE LOOK AT THAT EX-HUSBAND!
Let's see....last seen with him, had a restraining order against him...hmmmmm, a sign he could be violent....it's not rocket science folks. Find this Lou Lockett, lock him up for littering, and get an answer about what happened to Ricarda Tillman Lockett.
Nowak Fired by NASA
True Crime can be a forlorn topic to cover at times but in the case of the errant astronaut, one has to restrain the smirk and/or chuckle. Fortunately no one was harmed in this caper although evidently lovestruck Lisa Nowak appeared to be willing to do harm to someone, specifically her love rival.
This story was covered,
HERE ,
on this Blog right from the beginning. Now we learn that NASA has fired Lisa and even more of a snort, some steamy emails surface that might embarrass many of us.

From MSNBC.com:
Astronaut Lisa Nowak was fired by NASA on Wednesday, a month after she was arrested for attempted kidnapping in Florida, the space agency said.

Nowak, 43, was arrested Feb. 5 after police said she drove 900 miles from Houston to Orlando wearing an adult diaper in order to avoid stops so that she could confront a romantic rival.
I am happy to hear that floating around in space does no damage to our sex drives as witnessed by the emails between Colleen Shipman and William Oefelein. Shipman was the other woman and Lisa's rival for the affections of Oefelein.
Way I figure, this Oefelein fellow must have one that drags the ground what with all this female fighting over his fine self.
Reader Request
Found this comment in my post reviewing Ann Rule's
"Evidence of Love"
It's an interesting question. I'll throw it out there. I'd also suggest that the reader try contacting Ann Rule herself. She has a web site and I've had some nice chats with Ann over the years. She's very approachable and she might help the reader.
Anonymous has left a new comment on your post "Book Review "Evidence of Love"":

I moved to Wylie about 5 years ago and live on the street where it happened. I was wondering if anyone knew what the house number was. If anyone knows I would greatly appreciate it. I just need to know if it was my house. (i hope not)

Posted by Anonymous to The Kaitlyn Mae Book Blog at March 06, 2007 10:26 AM
Iraqi Detained at Airport Because of Device in His Rectum
This is really a confusing story. First, the fellow with the device in his rectum has the same name as Iraq's Prime Minister. His name is Fadhel Al-Maliki, note "Maliki".
From ABCLOCAL.com:
An Iraqi immigrant with a suspicious device lodged in a body cavity was detained Tuesday at Los Angeles International Airport, authorities said.
Which has pretty much nothing to do with anything but the fact that this guy had some kind of device in his rectum, as indicated from the following from the article linked above:
The device had a wire and what may have been a magnet concealed in his rectum, federal officials said. It did not contain any explosives.
On a Monday, Al-Maliki, who lives in Atlantic City, NJ, flew from Philadelphia to Los Angeles. The following day Al-Maliki was scheduled to return to Philadelphia after his one day visit across the country, or so Al-Maliki says. Somehow Al-Maliki's luggage managed to make the flight returning home to Philadelphia but Al-Maliki himself was detained in Los Angeles and subsequently that "device" in his rectum was discovered.
Folks, there is waaaaaaaay more to this story than the article reveals. Why would someone fly across country for just one day? Of course it's possible but rather unusual. Also, how did Al-Maliki's luggage get cleared to fly on that airplane while Al-Maliki was detained? And just how were authorities tipped off that something was odd about Al-Maliki? Did the device in his rectum cause alarms to go off?
Finally, just what the hell did this guy have in his rectum? We're told there were no explosives in the device but curious minds want to know.
Dognapping Caught on Tape
Five armed robbers broke into a home and stole five dogs. Just weird. The whole thing got caught on tape. I've got the link, check it out.
VIDEO HERE
Steals Books from School, Sells Them on the Internet
From Zwire.com:
WETHERSFIELD - Police said a local special education teacher was arrested on a charge of first-degree larceny after a months-long investigation revealed she had stolen hundreds of books from town elementary schools and was selling them on the Internet.
I mean when it comes to crime and ill-gotten gains, America is truly the land of opportunity.
Here's a Special Education teacher that stole books from her employers' schools and sold them on Ebay. Someone at the school noticed that a lot of the books they were missing were on sale on Ebay. It was small matter to get an investigator to pose as a buyer and actually purchase some of these purloined books from this champion for the children. Investigators discovered the words "property of Hanmer Elementary School" blacked out on the inside of the book cover.
Diner Owner Shoots Two Armed Robbers; Caught on Tape
Two robbers broke into a little breakfast diner in Philadelphia. The owner grabbed his own legally-owned gun and killed one of the robbers and forced the one he shot in the face to remain on the ground. It's all captured on cell phone video, check out the link.
From NBC10.com:
PHILADELPHIA -- The owner of a small breakfast restaurant who has been robbed in the past killed one alleged robber and injured another during a robbery gone bad in Philadelphia Thursday morning, police said. After several rounds were fired, a witness captured the aftermath on his daughter's cell phone video recorded.
It occurs to me that if enough of these armed thugs end up either dead or shot in the face that armed robberies would decrease dramatically.
More True Crime Updates HERE
================
Add POST to Technorati Favorites
=======