Some intriguing True Crimes this week.

Many say she was railroaded. Prosecutors say she was cold-blooded. She killed her marine husband by slow poisoning, or so the jury says.

An update on Randolph Dial, a Tarot Card Reader demands sexual payments, that COCA COLA trial and she faked her death but couldn't resist attending her own funeral.

Finally, a True Crime down my way that's got the local yokels all atwitter. I, however, have solved the crime.
Pic of the Day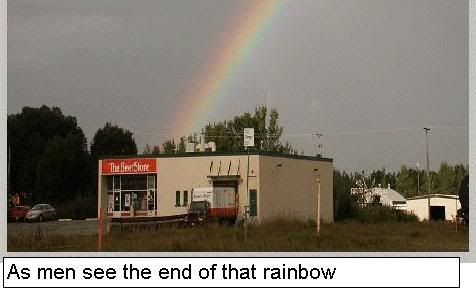 ---
Quote of the Day


Failure is not falling down, but refusing to get up.
~ Chinese Proverb ~
Web Site Worth the Visit
Learn the Birds' Songs

Here's a site with recordings of actual birds' songs. It's a great way to learn the tunes of the bird fellows by species. For you will HEAR them long before you'll ever SEE them.

ABOVE BLOG POST HERE

TIDBITS

Odd Facts

A chicken once survived for 18 months with its head cut off. The town of Fruita, Colorado celebrates ""Mike, the headless chicken day"" annually to commemorate this remarkable chicken.

In 1984, a Canadian farmer began renting ad space on his cows.

The flatulation from domesticated cows produce about 30% methane on this planet.

Rabbits and guinea pigs don't sweat.

Rabbits can suffer from heat stroke.

A barnacle has the largest penis of any other animal in relation to its size.

A donkey will sink in quicksand but a mule won't.

A female ferret can die if she goes into heat and cannot find a mate.

A male chimpanzee is 5 times hornier than the average human male.

Apart from humans, certain species of chimpanzee are the only animals to experiment sexually. They have been known to 'wife swap' and indulge in group sex.

Human birth control pills work on gorillas.

Randolph Dial Sentenced to Seven Years for Escape
The story of Randolph Dial is a most intriguing one. His story has been covered extensively on this Blog,
HERE
and
HERE.
For in April of 2005 or thereabouts, Mr. Dial, a most amazing man albeit a murderer and full-time criminal, was discovered living on a Texas chicken farm with the woman he had abducted from prison many years prior. The woman just happened to be the wife of the jail's warden where Dial was serving a life sentence for murder.
Indeed Bobbi Parker worked with Dial on a prison arts program making pottery. The kiln was stored at Parker's home and Dial had unfettered freedom in prison to work with prisoners on various arts program. Randolph Dial has a masters degree in art and is an accomplished sculptor.
One day Dial and Parker just took off, poof, left the prison. They left in Bobbi Parker's van and how cool is this? For who would stop the vehicle of the warden's wife as it exited the prison complex? Only Dial was in the back, allegedly forcing Bobbi Parker to drive off against her will.
The real confusion comes upon the discovery of Mrs. Parker and Dial living the hippie life on some godawful chicken farm, this some ten years AFTER their escape. Bobbi Parker had never tried to escape or contact her husband. Bobbi left two daughters behind.
Randolph Dial is now an old fellow and already must serve a life sentence. Add seven years for his prison escape, a punishment recently issued, and the state likely won't seek additional charges against the guy.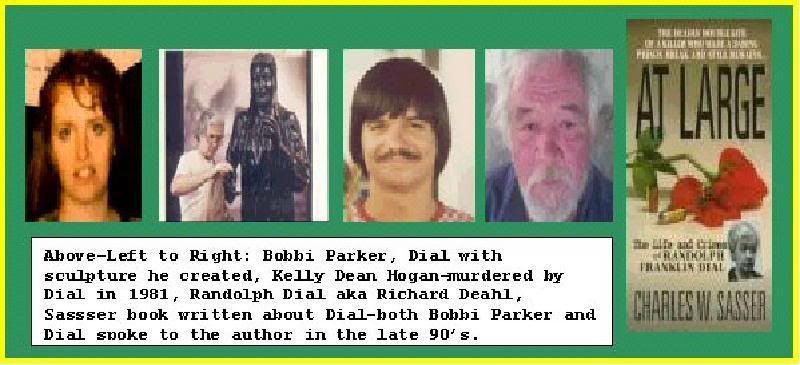 Which will leave the story of what REALLY happened to Bobbi Parker up in the air. For Bobbi Parker could have left her captor at any time. Indeed many people in Texas who knew this odd couple, both of whom were known by different names, stated that so far as they could see, Bobbi Parker could not only have left any time she wanted, she also seemed very dedicated to Randolph Dial.
Of course the warden's wife running off with an inmate is a most embarrassing fact. It could be that the jail powers-that-be simply want the story of Randolph Dial and Bobbi Parker to fade away. As of this writing, it is assumed that Bobbi Parker lives again with her husband, happily, we should assume.
Dial took the full fall for his escape with Mrs. Parker. Dial said he had abducted her against her will and also stated he threatened to harm her family through the years if she tried to escape. Many logical people have serious doubts about Bobbi Parker and just how "unwilling" she was to try and escape from Dial.
Theirs could be, ladies and gems, the love story of the ages.
From Google's True Crime newsgroup:
MANGUM, Okla. — Randolph Dial, a convicted killer who spent more than a decade on the run with the wife of a former deputy prison warden before they
were found in East Texas, was sentenced Thursday to seven years in prison on an escape charge, Greer County court officials said.

Dial, 62, also was ordered by Greer County District Judge Richard Darby to pay a $1,000 fine, plus court costs and costs related to his capture, said
Greer County Court Clerk Phyllis Denney.

Dial already is serving a life prison sentence on a first-degree murder charge.

He pleaded no contest to the escape charge in December, giving up his right to a jury trial.
Woman Fakes Her Own Death; Attends Her Own Funeral
As Rush Limbaugh would say, somewhere in my stack of stuff I have a fiction story with this exact same plot.
From the SP Times:
HUDSON - Beneath a stained-glass mural of the resurrection, the choir of St. Michael the Archangel Catholic Church gathered Friday to mourn a young member's death.

The people had braced for Alison Matera's passing since they learned of her cancer. They sat in wooden pews before a pedestal of polished white stone. Among them was a stranger who looked strangely familiar.

She said she was Matera's sister. But she looked and sounded exactly like Matera.

And the people wondered.

Was it all a trick?
Now technically, according to the Pasco County Sheriff's office, Alison Matera did not commit a crime. For it is not illegal, at least in Pasco county, to fake your own death.
The newspaper article does not provide more detail but I'd argue that faking your own death would certainly be a crime in every state providing a few other actions accompany the fakery. Such as collecting death benefits on a life insurance policy. Or engaging in any other activity involving cashing in on a death that did not occur, perhaps collecting Social Security.
The newspaper article does provide some insight as to why Matera faked her death and goodness knows how it true it all is. According to Matera, she had grown too close to her church choir and it's always been her manner to find a way to unloosen any close ties that made her uncomfortable in life. Pretending to have cancer and eventually dying was how Matera chose to separate herself from her choir group.
Only Alison Matera wasn't satisfied with perpetuating an almost-year-long saga of her death by cancer. She also HAD to attend her own funeral services, goodness knows why. Of course her own fine LIVING self was recognized by her fellow choir members, who then contacted the county sheriff's office.
My fine fiction story involved a similar plot; a young woman is so full of herself that for a really different ego trip she arranges her own funeral. I've always argued that one of the saddest facts of life is that we will not be able to attend our own funeral services. At least as a LIVING person, please understand. It would be really neat to hear all sorts of great stuff about ourselves when we are ALIVE to appreciate what great people we are.
Anyway, my story was fiction. Matera's really happened. It was not a crime. Had she tried to collect money her living self did not deserve, it likely would have been.
It might not be prosecutable, but what Matera did to her friends in the choir is truly an unspeakable crime against their humanity.
Stupid Victim Alert
Here's a criminal that was very smart. He not only managed to make big bucks for his tarot-card reading services, he also convinced this hapless adolescent couple to have sex in his office as this "magician" watched and taped it all.
From Twincities.com:
Miguel Antonio Garcia Garro of Coon Rapids billed himself as "The Maestro," the man who could help a struggling teenage couple smooth out their rocky relationship with the girl's father.

But after conducting a Tarot card reading with the couple in his Minneapolis office, authorities say, the man charged them $750 for more "help" — then told them to have sex on his desk and apparently videotaped the whole thing.

That's the story as laid out in a criminal complaint filed Monday in Hennepin District Court.
Sometimes, ladies and gems, victims become victims because they are just too stupid. In this case we'll try not to smirk. For they were a tender pair of adolescents, very much in love and seeking a peace from the girl's father, who did not like his daughter's choice of a boyfriend. Which is why they sought the "assistance" of the fine Mr. Miguel Garro-to help expel the "demons" surrounding the girl's disagreeable father.
I'm thinking the girl's father won't like his daughter's girlfriend any more after discovering the adventure the idiot led the daughter on.
Time's Man-of-Year Turns Out to Be a Pervert
William Anderson was allegedly the first scientist to inject healthy genes into a sick person to effect a complete cure. He was also runner-up for Time magazine's 1995 Man of the Year.
Only Anderson is a real pervert who started molesting the daughter of his assistant since the time the child was ten years of age.
This fellow will be spending pretty much the rest of his natural life in jail. Even with flattering letters from all manner of bigwigs in the scientific community, the jury still found Anderson a pervert and sentenced him for his crime.
From Bakersfield.com:
World-renowned geneticist William French Anderson was sentenced Friday to 14 years in prison for molesting his assistant's young daughter for years, beginning when she took martial arts classes at his home.

Superior Court Judge Michael E. Pastor said Anderson, 70, had caused "incalculable" emotional damage to a victim he described as an insecure and trusting immigrant lured by the promise of learning self-defense.

"Because of intellectual arrogance, he persisted and he got away with as much as he could," the judge said.

Anderson was Time magazine's runner-up for Man of the Year in 1995 for his work in genetics.
Convicted for Trying to Sell Coke Trade Secrets to Pepsi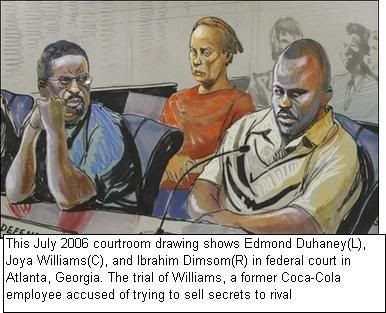 Came across this interesting little True Crime Story and first surprise to this True Crime buff, this case actually made it in front of a jury.
From Yahoo.com:
ATLANTA - A federal jury rejected a former Coca-Cola secretary's claim that she was duped by two ex-cons and convicted her Friday of conspiring to steal trade secrets from the world's largest beverage maker in an effort to sell them to rival Pepsi. Joya Williams faces up to 10 years in prison. No sentencing date was immediately set.
Further, the FBI was deeply involved in investigating this crime and the monetary stakes involved, had the plan succeeded, was well over a million bucks.
Joya Williams was the executive secretary for Coca-Cola's Global Brand Director. She was unhappy with her job and felt she deserved a big "payday". So Joya recruited a couple of friendly criminal types to assist her in the theft of classified Coke information and subsequently offer them to Coke rival, Pepsi. Joya's criminal friends testified against her and the jury didn't buy her defense that her criminal friends did all this nefarious activity behind her back.
The Crime That Has the Locals Flummoxed Here in the Swamps of Delaware
Soon enough this crime will be solved. For now, know that this murder has all the local yokels atwitter.
And for good reason because there's details about this crime that make no sense.
From Delmarva.com:
The father of a Rehoboth Beach woman who was killed during an apparent home invasion held a press conference this morning where he offered a $100,000 reward for the arrest and conviction of the suspect or suspects responsible for her death.

"I'm offerering this reward to the general public, to anyone who is incarcerated and knows these men, and to any bounty hunters who may be out there," said Frank Grossi. "Anybody who can help bring this case to a resolve. We're looking for justice. This is a senseless and horrific thing that happened to my daughter."

Frank Grossi is the owner of the Rehoboth-based Bayside Builders construction company. His daughter, Paula Grossi, 45, was shot to death on Jan. 26 in her home on Winner Circle in the Stable Farm development off southbound Route 1, just outside Rehoboth, state police said.
First, the above excerpt does not provide that little detail about the "two witnesses".
It would seem that there were two other people at home when Paula Grossi was shot by two burglars who bound up "a male relative of the Grossis and a female friend". The relative and his friend managed to escape their bonds and called 911.
Two things going on here. First, why did these burglars only kill Paula Grossi yet leave two other witnesses behind, alive and able to identify them?
The bigger thing and the detail that has our local press all in an uproar, is the police refusal to release a sketch of the criminals who did this terrible deed.
Hey, this murder happened on 1/26/07. Surely by now those two witnesses have had a chance to give details about their attackers? Surely the police want to get these drawings out for the public to see that these criminals can be brought to justice?
Or could it be that these "witnesses" described two burglars who do not exist? If so, of course the police don't want to go releasing a drawing of suspects to the public that will have us all reporting on our brothers and Fedex men as possible perps!
Journalists up this way are not letting up and who can blame them? No release of the drawing? No response as to the strength of those ties that held the two victims unable to help poor Paula Grossi?
It's just a matter of time, folks. I'm quite sure that Frank Grossi's offered reward for the "real" criminals will never leave his wallet.
Cynthia Sommer Guilty of Murdering Marine Husband
She killed him with a slow death by arsenic. He wanted to control her spending. She desperately wanted breast implants.
After his death, Sommer GOT those breast implants. She also methodically went through a quarter million dollar death benefit from her husband's death and plowed through a trust left for her children from their father.
Many argue that the evidence against her was flimsy. I say...THREE times the normal amount of arsenic in the man's system?
The bitch should rot in jail.
Click here for a psychological insight into this nut case.
More True Crime Updates HERE
================