Lots of True Crime including a few local crimes. We've got updates on the Delaware Univ. shooting and the strange case of the Delmarva lady with a yard full of dead babies.

The Spector mistrial, a family living in squalor, illegal aliens killing Americans and, of course, the saga of the smuggled iguanas.
Web Site Worth the Visit
Because One Can Never Have Too Many Kittens

CLICK HERE




Update on Star Simpson-the Logan "Bomber"
It would seem that MIT student Star Simpson might have mistakenly donned that sweatshirt by accident that almost got her killed, according to Simpson's Mom.
From the Starbulletin:
But her mother, Stephanie Simpson, said it may have been a mistake because Star used the shirt the day before on career day at the Massachusetts Institute of Technology and when she went to pick up her boyfriend at the airport. "It was just sleepyheads. She must have been just asleep to the fact of where she was going," Stephanie Simpson said.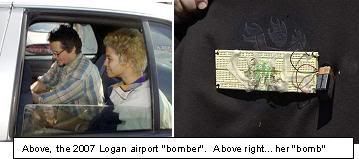 This story reminds me of those weird logo things they were putting all over the place in Boston and New York to promote some cartoon movie.
Although walking into an airport with a circuit board glued to one's sweatshirt, even if the battery wasn't hanging off, is not too smart. Laugh all you will but such attire is not normal amongst us.
Here's a rather funny
take on the story.
Before putting this story to bed, let us note that Star was a member of the Robotics club at her high school in Hawaii. Who knew such a club existed?
Strange Death of Two Sisters
Here's a True Crime story flying a bit under the radar. Two sisters, one 19 and one 18, both died in their own home just six days apart.
But what happened at that address has this small community on edge. Two sisters -- Erin Stanley, 19, and Kelly Stanley, 18 -- died six days apart earlier this month.
Two healthy adolescents don't just suddenly up and die. It's been hinted but not affirmed that one of the sisters was strangled. The other sister, so the dark scuttlebutt goes, was investigating the death of the first dead sibling.
There's not been much more reported on this crime although I did see it mentioned on Greta recently.
We're keeping an eye on this one.
Two Local Cases: Babies in Her Backyard and the Delaware U. Shooting
It was a shocker, the news that a woman in the nearby town of Ocean City, Maryland had showed up at a medical center with evidence of having recently given birth. Police were summoned and a cadre of investigators showed up at Freeman's house. They found the remains of many dead babies on Freeman's property.
But the case ends with a strange twist.
From WGMD.com:
Assistant Medical Examiner Dr. Tasha Greenberg testified that the remains could have been stillborn first. The medical examiner said Freeman had a history of stillborn births, a history of seizures, an infection in the placenta, plus she used tobacco and, allegedly, cocaine. Based on those and other factors, the medical examiner concluded there was no proof of live births.

Indeed. The prosecutors feel that the fetuses found were not live births. Thus a successful prosecution of Freeman is not likely.
So she took cocaine and buried her miscarried babies in her yard. What's wrong with this?
Then there's the case of the shooting at Delaware University. The world woke up to news that two students had been shot at this university late the prior evening in late September 2007.
With memories of the Virginia Tech massacre, Del U officials quickly canceled classes and put the college on lockdown.
From the Deleware State University web site:
What we know is: some time between 12 midnight and 1 p.m., on Friday morning (this morning) a group of about 8-10 students left the Village Café and dispersed. At some point soon thereafter some of those students ended up in the pedestrian mall area between Grossley Hall and Memorial Hall. Shortly before 1 p.m., a gun was produced in the area among those people and about approximately 4-6 shots were fired. A 17-year-old male student and a 17-year-old female student – both from Washington D.C. were struck by gunfire.
Judging from the above it could be that a group of students went out drinking and arguments and gunfire ensued. It's a story as old as the hills.
The authorities at Delaware U are to be commended for their swift response.
He Videotaped Abusive Cop Now They're Stalking Him
We first reported on citizen journalist Brett Darrow's
videotape of a smart-assed cop harassing him
for no lawbreaking reason. Darrow's video made it to Youtube as these things often do nowadays. The video was quite damning to the cop videotaped being so abusive and unfair to Darrow, who was committing no crime and was being respectful to the law enforcement officer.
Sometimes, folks, we gotta keep a close eye on the cops. Sure they have a tough job and I'm betting the vast majority are very cognizant of their actions and how they reflect on the badge they wear. Hell I was married to a cop oncit!
But like every other occupation on the planet, there are the abusers. Now we have Darrow's home being essentially stalked by angry police.
From the Newspaper.com:
A young Saint Louis, Missouri motorist faces trouble with local police upset at the national attention his September 7 video of an out-of-control officer has drawn to ongoing problems within area law enforcement agencies. On Sunday, Brett Darrow filmed a Saint Louis Metropolitan Police Department cruiser staking out his home.
Not to fear yon ladies and gems. Darrow still has that video camera and he's got film of the local police hanging out around his house…for what? Darrow's committed no crime. Is there so little crime in that area that the police have endless time to hang around a house of a man who caught one of their colleagues behaving so rudely?
Another Celebrity Gets a Free Murder?
I really believe the people of Los Angeles should be allowed to live. Sure, they're all idiots, having now allowed OJ two free murders, Michael Jackson a few free child molestations and now Phil Spector gets a pass for indulging in favorite sport, which is sticking a gun in a woman's mouth, and killing his date.
Folks even the idiots on this planet deserve to live and sure there's an abundance of idiots in Los Angeles. I say let's keep these fine folk around but deny them service on a jury…EVER!
From CourtTV.com:
Some thought there was enough background to say yes, possibly she did kill herself," an electrician who voted to convict Spector said at a press conference.
I note above that some especially idiotic members of the jury somehow believed that Lana Clarkson actually decided to commit suicide at her date's house. This in mid of night and using his gun!!!
Idiots! They are idiots and nothing less.
Although…

So okay, these jury members somehow accept that a young woman gets dressed up, goes out on a date with a fellow, and when she gets to his house she decides…the hell with it, finds the guy's gun and commits suicide on his couch? And after his date was so rude as to commit suicide in his house, what does Phil Spector tell his chauffeur right after the gunshots rang out in the night? "I think I killed somebody," he said.
Why would he say that if this lady went and killed herself as Phil asserted?
Even in LA I find it hard to believe there are people that freaking stupid. How on earth could Lana have been sure that her date would even have a gun in her depressed suicidal state?
Could some members of this jury have been paid off?
The prosecution is going to try Spector again but the prosecution is swimming upstream. For the next jury will also be from Los Angeles.
That city's jury pool believes that celebrities should get free murders and molestations.
Eh…maybe and earthquake will finally sink that city into the Pacific Ocean.
We can only hope.
Iguana Madness
What is about iguanas that I missed?
For if they're not smuggling them in bras than a prosthetic leg will do.
From Lep.co.uk:
young iguana is enjoying its new home at Blackpool Zoo after being smuggled into the country in a bra.

An eagle-eyed police officer at Blackpool International Airport stopped a Russian woman after spotting that something was "moving" inside her dress.

The young iguana-stealing lady above is more of an iguana lover than the fellow referenced in the link below. For she merely loved her iguana and wanted to keep him as a pet.
From Chron.com:
LOS ANGELES — A man accused of stealing three endangered iguanas from a nature preserve in Fiji and smuggling them into the United States in his prosthetic leg has been indicted.
The fellow above started a fine business breeding and selling endangered iguanas. He told police he sold the iguanas for about $10,000 each.
17 Year Old Teen Boy Up for Sex Charge; Beat up by Girl'
s Father
It's a story as old as mankind and yet the result is a confused mish-mash of laws abused beyond their original intent.
So a young man, 17 years old, and a young woman, 15 years old, decide to steal away from school and engage in a sexual liaison. Goodness this has never happened before.
The girl's father learns about these two dare devils and he goes to the boy's school, finds the kid and beats him up.
So okay, the man was angry. We all can understand it. Although the thought crosses my mind that the girl wasn't raped for God's sake. Would the boy's father be so understood if he beat up the girl who seduced his son?
Only it doesn't end here.
From the Unionleader.com:
WEARE – A father attacked his daughter's boyfriend last week after learning the boy had sex with the underage girl, police said.

It was about 1:30 p.m. Monday, Sept. 10, when the man stormed onto the grounds of John J. Stark High School and beat up the 17-year-old from Henniker. School was just letting out, and many students witnessed the attack, said Detective Lou Chatel.

The boy suffered bruising and later received two stitches to his face.

The father was charged with simple assault, a Class B felony.

Police said the boy is dating the man's 15-year-old daughter.
So the father is charged with assault and, well yeah, even if the pimply teenager had sex with our daughter, we don't have the right to beat him up no matter how much we want to.
Now that young boy is facing charges for sexual assault! It would seem that the laws in New Hampshire are such that the 17 year old boy is of legal age while the 15 year old girl is not.
From WBZTV.com:
(AP) WEARE, N.H. First, a father was charged with beating up his daughter's boyfriend last week after learning the two had sex. Now, police are preparing to charge the boy with sexual assault.

The 17-year-old boy from Henniker, who admitted to having sex with his 15-year-old girlfriend, will "absolutely" be charged, police said.

Weare Detective Lou Chatel said the boy will be charged as an adult and could face up to a year in jail.
I don't think these laws were ever passed to cause prosecution in the above scenario. The boy was 17, the girl 15. This is almost typical of adolescent ages of couples in that age bracket.
But the prosecutor, who evidently has nothing better to do, will "absolutely" charge the boy with sexual assault.
I'm still shaking my head over this one.
Melanie Goodwin-In the Wrong Place at the Wrong Time
She was last seen in a convenience store. It was reported that she stopped and spoke to the fine fellow who killed her and set fire to her body.
From Foxnews.com:
Police have issued a murder warrant for the arrest of Ernesto Pina Reyes, a 20-year-old resident alien living in Denton, Texas, in connection with the death of Melanie Goodwin. Reyes remains at large.

Surveillance video from a business near where the charred remains of Goodwin, 19, were found this week shows a man dragging a body from a car and igniting a fire, according to an affidavit released Thursday by Carrollton police. Investigators believe the man in the video is Reyes.
Speaking of hate crimes…there seems to be a new modus operandi amongst the lowlife rapists among us. The latest and greatest is to set the body of the female just raped on fire. Or else pour drain cleaner down her throat had these fine rapists forced the woman to do oral sex on them.
Is this not a hate crime confined to females? Of course these perps are taking this action to avoid investigators from obtaining their very incriminating DNA in or on the female they assaulted.
But nobody looks out for the women, particularly the women themselves. If ever a hate crime was confined to one group in our society, and to the most HELPLESS group in our society, it is these horrific acts enacted on female victims of sexual violence.
Maybe I'll call Joe Biden and ask him to sponsor a bill which doubles any penalty to a sexual assault perp who does this kind of thing.
Where's the Common Sense?
So far as anyone knows these two parents are not mentally retarded or insane in any way. Yet they have 22 cats and live in a state of squalor so bad that they were actually ARRESTED!
From KATU.com:
WASHINGTON COUNTY, Ore. - Two Beaverton-area parents were arrested recently after police found them and their two girls living in an apartment filled with 22 cats, trash and cat feces.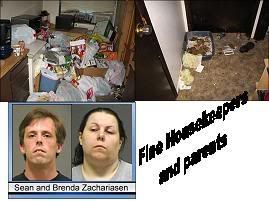 FOCUS ON:
Lisa Montgomery-Killed a Mother-to-Be and Stole Her Baby from Her Womb
=====================
She met her prey at a meeting for dog breed aficionados. Bobbie Jo Stinnet was 8 months pregnant. She was strangled and her baby was taken from her womb.
Because for sure this most unusual crime, replete with twists, turns, curves and bends involving dog shows, internet chat boards, strange cousins, dead dogs, and fake pregnancies, will be the true crime trial of the decade.
Because if Lisa Montgomery is not crazy then she certainly behaved as if she were.
This post begins
the story of Bobbie Jo Stinnet and Lisa Montgomery.
Right after this crime which shook the nation, this Blog became a focal point of discussion about this amazing case. At some point Bobbie Jo's AND Lisa Montgomery's husband actually posted to this blog. This link to a post with many intriguing
comments about this crime.
We continue on HERE following this case.
=======
Add POST to Technorati Favorites
=======